Who will help you sell your company?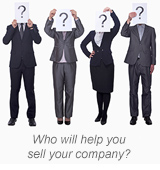 We see many different ways in which people sell their companies. We also get a considerable number of requests from business owners approaching us to help in a business sale. Each situation is unique, and there are countless different ways to sell your company. A thing that always surprises us, is how business owners decide on how to sell after they have worked for several years to build a good company. In our view, there is an immense focus on the cost of M&A advice. Hence, there are many business owners of SME (small to medium-sized enterprises) who have decided to sell their company themselves.
Often, people come to us at a moment when the business situation is not good anymore. The company has lost a leading , is heavily indebted, has gone through mismanagement or other causes explain why it is not flourishing anymore. At such a moment, it is very difficult to help in the sale of a company. Especially in cross-border sales (where a higher level of trust needs to be built), it is always difficult to do a last-minute business sale.
On this page, we describe the possible individuals that might help sell your company. We define where to find a suitable M&A adviser and what the requirements are of a good M&A consultant. And finally, we give some further information on the CFIE network and how we differ from other advisers in the M&A market.
It might be possible that you have already decided to hire an M&A adviser. Visit M&A advisers to see if there is a suitable consultant in our network.
Who will sell your business?
As mentioned before, there are countless ways to sell your company. There are also many individuals to choose from at the moment when you want to sell your company. Obviously, we think the best way is to use an experienced M&A adviser. However, we also think it depends on the type of industry you are in and the number of suitable buyers that exist both domestically as well as abroad.
Who is going to sell your company?
Your lawyer
A friend
Your bookkeeper
Yourself
An M&A adviser
We will not discuss until the last detail, the pros, and cons of each solution. We are happy to do this in a personal meeting or a phone call as there is quite a lot to it. A business sale process takes up a considerable amount of time. Interested buyers will ask many questions and will want to see extensive documentation. This can cause enormous stress for the business owner if the process needs to be managed by him or herself alone. Further, business owner's time is usually not taken into consideration as a cost when deciding to hire an M&A adviser in the process or do it yourself. However, in the end, the owner could have done other things like building the profitability of the business.
Your lawyer might come in handy if you have found the best buyer and negotiated the best conditions. In this case, your lawyer could build the legal agreements around the deal (in case your lawyer has experience with contracts related to M&A). However, how sure are you that you have found the best buyer and how certain are you that the conditions you agreed to are the most suitable?
A bookkeeper normally prepares audited annual accounts and all tasks around this. He or she is not a professional in business sales. Your accountant is well suited to prepare any requested documentation for buyers, but in terms of actively managing an M&A process, this is not the best solution. In the end, it will be cheaper than a professional M&A adviser, but this person will not work for free either. The question is if the lower costs outweigh the added value of an M&A adviser. At the moment when you sell, the most important asset you own, it is best to go for quality. Your company for which you have worked often over several decades deserves to go to the most suitable new owner.
Where to source an M&A adviser
When you have decided to use an M&A adviser, several choices remain. Below, we give some examples of possible alternatives when choosing an M&A adviser. Instead of telling you which option is most suitable, read through the remainder of this page before coming to any conclusions.
Some of the options open to you for finding an M&A adviser are the following:
Large international office
Small international office
Local office
General M&A network
M&A network of specialists
Download our presentation to learn more about our M&A network.
Requirements of a suitable M&A adviser
When you decide to seek the help of an M&A adviser, it is important to check whether you have found the right adviser. You have to look closely at what an M&A adviser brings to the table.
The best M&A adviser has:
References
Knowledge of your market
Knowledge of your industry
Knows the best practices in selling a company
Has a good understanding of your case
Integrity
Support of the CFIE network of M&A advisers
The CFIE network consists of independent M&A advisers that work together as a team. The difference between CFIE and other M&A networks is that CFIE is an open network where none of the advisers have exclusive rights. This gives the client the freedom to work with the advisers of their choosing that he or she thinks are the most suitable. The benefits for the client are the following:
An adviser who speaks your native language
An adviser who knows your industry
An adviser who knows how the deal is done
An adviser of your own choosing
Differences between CFIE network and other M&A advisers
The differences between CFIE and other M&A offices are numerous; CFIE is a flexible network with competent M&A advisers without a 9 to 5 mentality. To conclude the business sale and earn the success fee is the main goal. The benefits for the client are:
Low initial (commitment) fee
Better than average chance of success
An M&A adviser who is most suited to your situation
An M&A adviser who speaks your language
Contact the best M&A advisers
Feel free to contact us if you have any questions concerning the preparation of a sale of a company. We have advisers that speak your native language and have experience with many business owners that have sold their company before you. We are happy to share this knowledge and give you some free consultation on what to consider when selling your company.