Buying a business in Europe
Buy a company now
For buying a business CFIE has a special focus on ICT, transportation, and chemicals. We know the process of purchasing a company inside out. We help you with the strategic rationale concerning the acquisition. We have the knowledge and consultants for important aspects like; due diligence, business valuations, legal, taxes and many others.
Purchase a company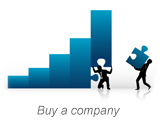 Do you want an experienced M&A adviser for the purchase of a company? For sure, but developments continue, and industries have become more mature. If you want to buy a company in ICT, transportation or chemicals we can provide you with an adviser who knows these industries inside out. Just get in touch and let us know what type of company you are after.
Process of buying a business
Buying a business is a process which includes roughly 7 steps. The buying process can only be successful if your adviser knows the "best practices" in buying a business. Visit process of buying a business for insights. This page also includes a download of the timeframe of the process
Buy and build strategy
The CFIE advisers have executed several buy and build strategies in the past. Visit buy and build strategy for more information about buying businesses this way.
Advantages of buying an existing business
Do you want to make a head start on your market development? The easiest way to grow your company is by buying an existing business. When it comes to market development, expansion in other EU countries, cross-border M&A should be considered. Visit advantages of buying an existing business for the 6 main advantages.
Costs of buying a European company
Are your activities focused on earning money? As much as our advisers like their work it is not for free. Because of the complexity of the buying process, the possible costs are not limited to the costs of M&A advice only. What would you think about the costs of wrong advice? Visit costs of business purchases in Europe for an overview of all the costs related to buying a company.
Legal documents in a business purchase
Legal documents are crucial when buying a business. An important aspect of the buying process is the legal documents. It is essential that your adviser has knowledge about these documents. Important documents are the LOI, NDA, and SPA. Visit legal documents in a business purchase for important details and downloads about this aspect.
Buying a business due diligence
Do you want to have the right insights and numbers when buying companies? Due diligence is to check if the figures represent reality and if the company is actually as it has been described. When you buy a company, you want to know what you are buying. Visit buying a business due diligence for details. If you want to know the value of the business which you are acquiring, it can be wise to do a business valuation.
Prepare for buying a business
When you have decided to buy a business, it is time to prepare. Due to the length and complexity of the process, it will take some time before the acquisition will be a fact. Good preparation will increase the quality (a good target for a good price). It also prevents you from wasting expensive time. Feel free to contact us to involve a CFIE adviser in your preparation or guidance for the whole buy-side M&A process. Visit how to prepare for a business purchase to get prepared down to the last detail.
M&A advice on buying a company
Feel free to contact us if any questions exist after reading this page. The CFIE M&A adviser speaks your language. He or she knows your industry. He has knowledge and experience in buying businesses. Let the CFIE adviser help you. Download the CFIE presentation for details about a true European M&A network or visit international M&A advisers to select your preferred adviser for buying a business.